Accessories
Natural Trumpet Bags
Mouthpieces
Two sizes of bags are available, both will take 2 -3 trumpets and crooks (in padded zipped dividers). The bags have a shoulder strap and carrying handle. As an option, backpack style straps can be provided allowing the bag to be carried as a rucksack.
The standard bag takes trumpets disassembled.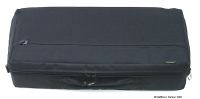 The long bag takes the trumpets assembled.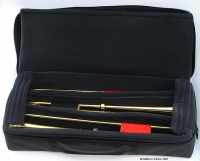 Mouthpieces, both Modern and 'Baroque' are made to order and require the customer to be present for the final adjustment of cup and rim. Shape, style etc. are specific to the customer

For all enquiries please email me at
trumpets@matthewparkertrumpets.com
or contact me on
Tel/Fax 0044 (0)1558 650606